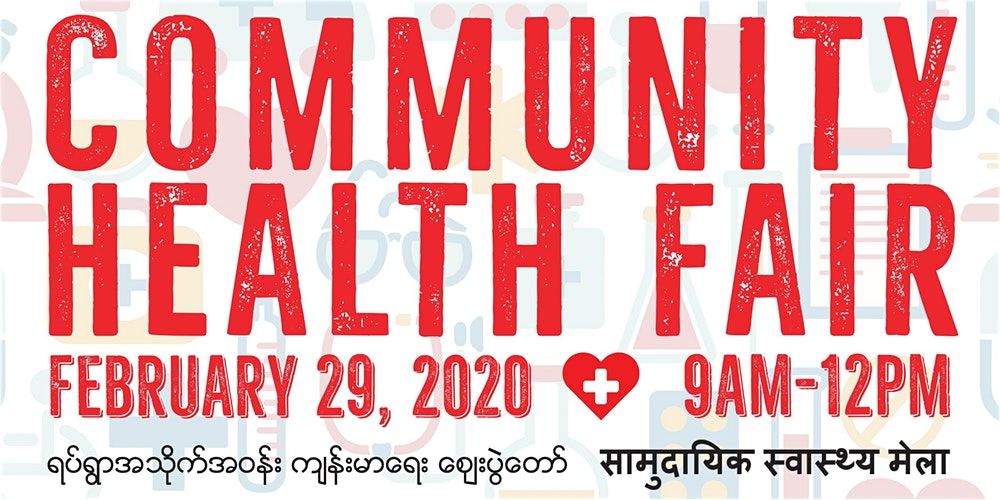 Saturday, February 29, 2020 at 9 AM – 12 PM
Asian American Resource Center - City of Austin
8401 Cameron Rd, Austin, Texas 78754
Presented in collaboration with Austin Public Health and the Austin Asian Community Health Initiative, Inc, our annual health fair provides free health resources, screenings, vaccinations and activities for the whole family. Interpretation services available in Burmese languages (Burmese, Chin, Karen, Karenni) and Nepali. It's free and open to the public.

VACCINATIONS
(please bring your shot record)
Hepatitis A & B
Pneumococcal (PCV & PPSV)
Tdap/Td (tentanus booster)
Human Papillomavirus (HPV)
Influenza (Flu)

HEALTH SCREENINGS
Blood pressure
Blood sugar (2 hours fast)
Cholesterol (8 hours fast)

RESOURCES
Multilingual health navigators
Info on low-cost health clinics
Health insurance
Mental health
Kid Activities (by Creative Action)

For more information, please contact Sinying Chan at Sinying.Chan@austintexas.gov or call 512-972-5117.